Solar Panel
MPS-390N
Premium Solar Solar Panel with Superior Technology and Warranty
The MPS-390 solar module is a new generation, high-tech, high quality solar panel by Max Power Solar and is backed with Australian warranty. With a massive 390-Watt output from a standard footprint it is one of the most powerful panels for output per square metre available in the market.
Key Features:
Powerful 390-Watt output from a standard sized panel
Excellent investment backed with long Australian warranties (25-Year product and 30-Year performance)
Dual glass (front and back) for superior longevity and toughness
Bifacial technology
Exceptional 21.35% efficiency
Excellent performance under low light conditions
Hail and corrosion resistance.
The stylish black frames combine perfectly with the dark cells, making the panel aesthetically pleasing and expertly crafted to complement contemporary Australian home design. When installed with the sleek, dark Max Power inverter and all black mounting system, you have the best-looking solar system available for your home.
Superior Australian Warranties
The Max Power Solar 390N panel has a superior warranty to most other panels in the market.
The Max Power MPS-390N has an Australian 25-year product product warranty covering workmanship and materials for the panels. Most other panels have 12 or 15 years.
There is also an extensive 30-year linear performance warranty. The output of all solar panels degrades over time. After 30-years the Max Power panel is warranted to still perform at over an incredible 87% of the original rating. Other panels only have a 25-year performance and will only be rated at around 80%.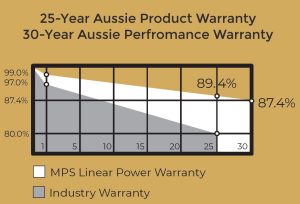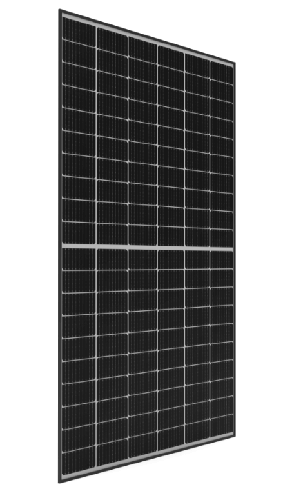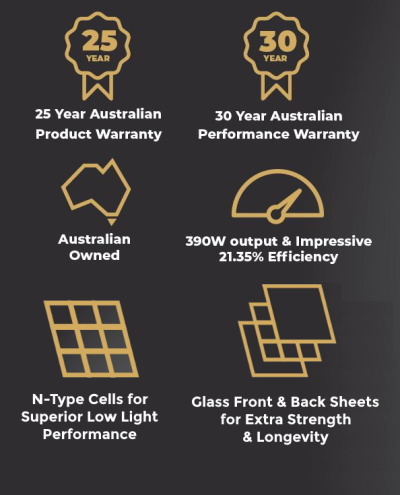 Superior technology
Built Tough with Dual Glass: The powerful panel is built extra tough to thrive in harsh Aussie conditions. It features tempered glass sheets on the front and back for extra strength and higher efficiency. Most panels sold in Australia only have a plastic backing sheet. In hot Aussie summers the plastic sheet can delaminate, a common cause of of panel failure.
Superior N-Type Cells with Bifacial Technology: The N-Type cells in the module out produce the standard P-Type cells in other panels in low light conditions such as early morning, late afternoon and on cloudy days. This means the panel delivers increased power and more savings to you every day.
More Power: The panels has a massive 390 watts of output from a standard panel size footprint. It is ideal for customers with tight roof space, or those who need the most power production.
Exceptional Efficiency of 21.35%.
Salt mist and Corrosion resistance: makes the panel an ideal choice for customers living near the coast.
Max Power MPS-390N Vs LG 390 NeON H+: Premium Panel Comparison
LG solar panels have traditionally been seen as the benchmark for premium solar panels in the market. When comparing the Max Power Solar MPS-390N 390W panel to the equivalent 390W LG NeON H+ panel, the MPS-390N is superior in the several key areas – warranty, dual glass, and bifacial technology.
25 Year Australian Product Warranty

30 Year Australian Performance Warranty
Australian
Owned
Produced in
Tier 1 Facility
Latest Solar
Technology
MPS-370M60
Specifications
| | |
| --- | --- |
| Model | MPS-390N |
| Maximum Power (Pmax)W | 390W |
| Module Efficiency | 21.35% |
| Cells | 120 Bifacial N-Type |
| Power Tolerance | 0-+5W |
| Frame | Anodised Aluminium |
| Panel Dimensions LxWxH mm | 1756 x 1039 x 30mm |
| Panel Weight | 23kg |
| Product Warranty | 25-Years |
| Performance Warranty | 30-years |
Compliance with CE Standards
Compliance with VDE Standards
Manufactured under quality assurance facility
Approved by clen energy council
Powered by Tier 1 Maufactures