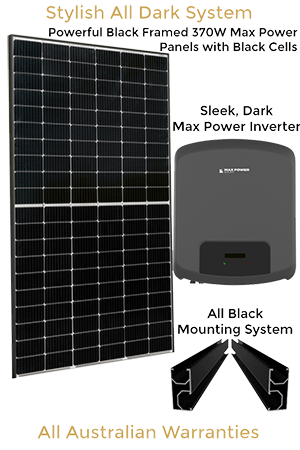 Australian Owned
Our Product Range
Max Power solar products are not only designed to look great on your home, they are manufactured and tested to the highest standards to deliver many years of trouble-free energy production. The black framed and black celled panels, the dark inverter, and all black mounting system combine perfectly to deliver Australia's first all dark solar system backed with Australian warranties.
Solar Panels
Our solar panels deliver a massive 370W output from the same physical size as many competing 330W panels. They are visually appealing with black frames and black solar cells and are backed with a 15-year product warranty and a 25-year performance warranty.
Inverters
The sleek dark inverter sets itself apart with smart looks compared to standard white, utilitarian inverters. It is also feature packed with 10 in-built safety mechanisms, low voltage start-up, Wi-Fi connectivity, and is backed with a 12-year warranty.
Smart Monitoring
The Max Power Smart Monitoring is an easy to use cloud based platform that allows customers to monitor their solar system production and performance via the internet or through an app on a phone or tablet.
Compliance with CE Standards
Compliance with VDE Standards
Manufactured under quality assurance facility
Approved by clen energy council
Powered by Tier 1 Maufactures